Most Wired Survey Highlights Innovation & Digital Transformation
2022 has brought some new pieces to the CHIME Digital Health Most Wired Survey 2022 according to the recently released National Trends Report. First, the survey is shifting from being a snapshot of an organization at a specific time to a broader 24/7/365 resource on digital transformation. Second, and the piece we'll look at today, is the addition of categories for Innovation and Digital Transformation. The new Digital Transformation questions do not impact an organization's overall score. However, "the questions are designed to help stimulate internal conversations as to how best action the strategic insights gleaned from this year's report."
With 14 customers on the Most Wired Survey list who achieved an 8, 9 or 10, we've seen that the healthcare organizations that actively engage in conversations about how to take action on digital transformation are the ones who seem to be ahead of the curve. So we are interested in these new sections and eager to share some insights
For those who aren't familiar with Most Wired, here's the overview provided in the report, "The Digital Health Most Wired survey and recognition program serves as a comprehensive "Digital Health Check-up" for Healthcare organizations across the world. As success in digital health increasingly determines the efficacy and quality of patient care, the scope of CHIME's Digital Health Most Wired (DHMW) survey reflects the progress of leading healthcare providers as they continue to reimagine healthcare."
As we settle in for the "new normal" of living with COVID in the same way we live with influenza, organizations are focused on recovery. At several conferences this fall, recovery was a hot topic from looking at how to start recouping lost revenue to living with less staff to the future of telehealth and becoming more competitive. Nearly every session and panel touched on something related to recovery. That's why thinking about innovation and transformation is so critical. This is how organizations will be able to live with fewer resources, cut costs, be more efficient, etc. So what did the organizations who completed the survey have to say? Here are a few highlights:
According to the National Trends Report, "In order to survive, most organizations are looking to increase investment in technology and digital solutions. Currently, 72% of organizations report spending between 1-9% of their IT spend on experimentation/trials of technological innovation, new ideas, ventures, etc., 19% report spending between 10-19% and 4% report spending 20% or more, highlighting how important investing in innovation and competitive differentiation is becoming amongst healthcare organizations."
A few other key metrics around innovation that stood out:
In 66% of organizations, CIOs are primarily responsible for leading tactical technological innovation

60% of organizations claim their strategic leadership encourages innovation at all levels

44% of organizations claim strategic indicators are measured within their organization, and overall performance is managed at board level with KPIs designed for innovation activities.

33% of organizations redesign their organizational structures and business models to foster innovation and empower strategies, 28% of organizations have a functional organizational model and business model defined with 26% of organizations integrating their organizational structure and business model into their strategies.

Technology innovations specifically focused on patient empowerment continue to remain the focus for almost all organizations.
When it comes to digital transformation priorities, the survey shows that many organizations are well on their way to achieving their goals despite the challenges of the pandemic. Specifically, 60% report being right on schedule with their digital transformation efforts, while 28% claim they are behind schedule.
Security stood out as the clear leader when priorities were ranked according to importance, followed by clinical quality and safety. Infrastructure and patient engagement followed closely.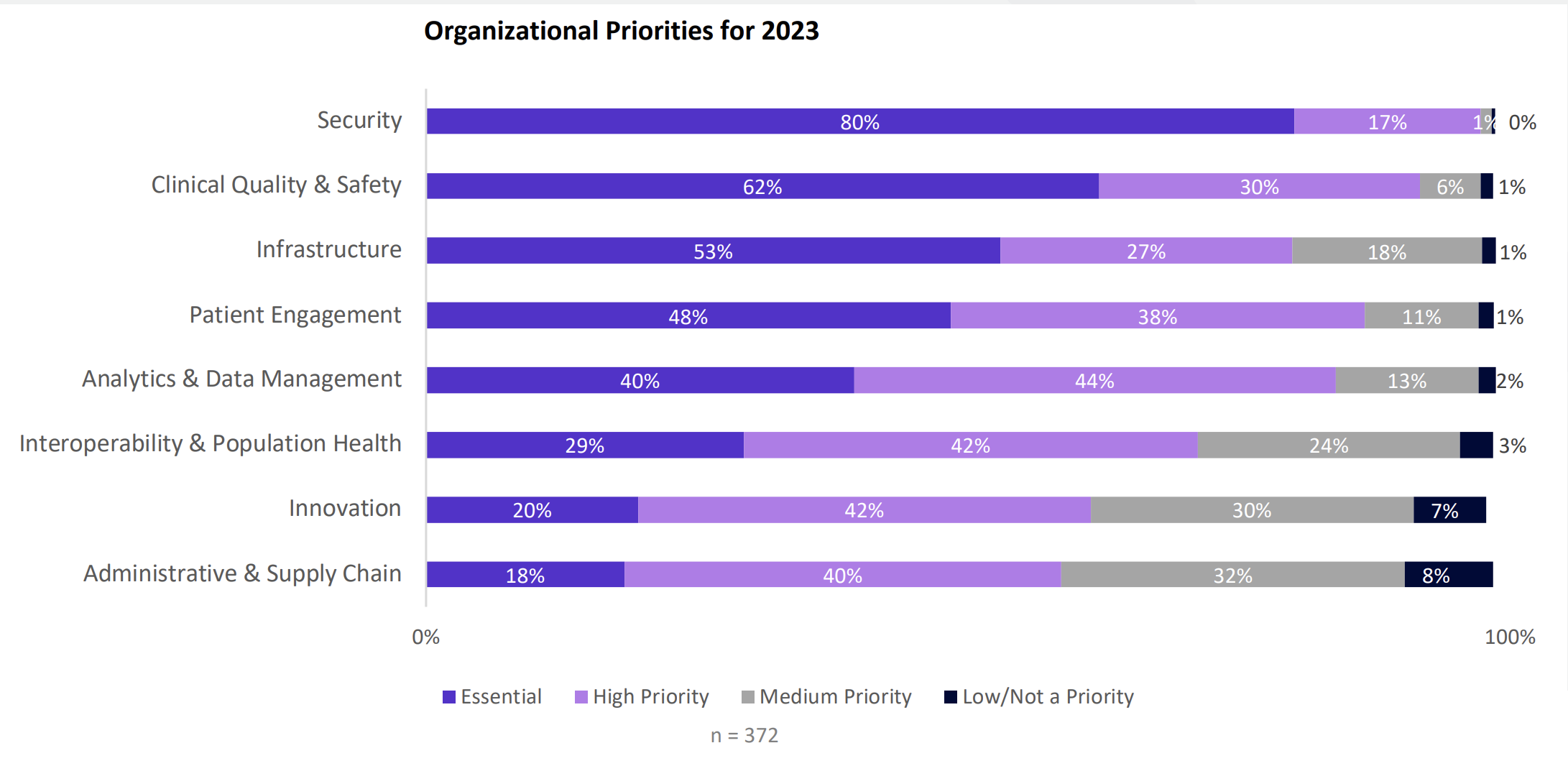 Organizations also shared their critical steps to success as well as their biggest challenges. According the National Trend Report:
Critical steps to enable a successful transformation: Involve all departments in developing a strategy (23%), assign a board or c-level sponsor to the project (19%), invest in the right technology and tools (16%), and ensure executive commitment and alignment (15%).
Biggest challenges to realizing a successful transformation: Lack of dedicated budget (20%), cultural resistance (15%), tendency for short-term over long-term planning (12%) and an over reliance on legacy technology (11%).
While there is a lot of progress around innovation and transformation, there is also still a ton of opportunity. To dive in deeper to these and all the other categories covered in the Most Wired Survey, read the full National Trends Report

.