Data from Most Wired on Patient Engagement Tools that Enlighten
In the last blog post on the 2022 Digital Health Most Wired (DHMW) survey, we gave an overview on the data from the patient engagement category. As a reminder, the survey assessed and recognized a record 38,800+ hospitals and health systems worldwide on their digital health capabilities and usage across eight key categories, including Infrastructure, Security, Interoperability and Innovation. Of these categories, Patient Engagement has the greatest impact on the overall DHMW score, reflecting the increased movement of hospitals and health systems to more patient-centered operational models.
The 2022 DHMW survey required healthcare organizations (HCOs) to identify an array of digital health services and tools fully deployed for patient use. Consideration was paid to the environment within which the tool was provided (e.g., the HCO's website or portal; mobile apps) and the targeted audience (e.g., patients and their families inside the HCO; consumers outside the HCO). Swirling these data points together allows us to analyze the market's provision of digital health tools by specific patient empowerment objectives, categorized as Orienting, Enlightening, Aligning and Personalizing.
In today's post, we'll look at the data in the Enlightening category. Once patients and families get their bearings as they prepare or begin to engage with the care facility, providers then offer digital tools to enlighten them on health topics that address their health interests and experiences.
The most frequently offered such resources were:
Family education videos (83%)

Videos about procedures (81%, a 16% increase from 2021)

Health education videos (78%)

Health library (66%)

Health maintenance campaigns (65%, a 14% increase from last year)

Videos on patient medications (65%, an 11% increase from last year)

Symptom checkers (51%)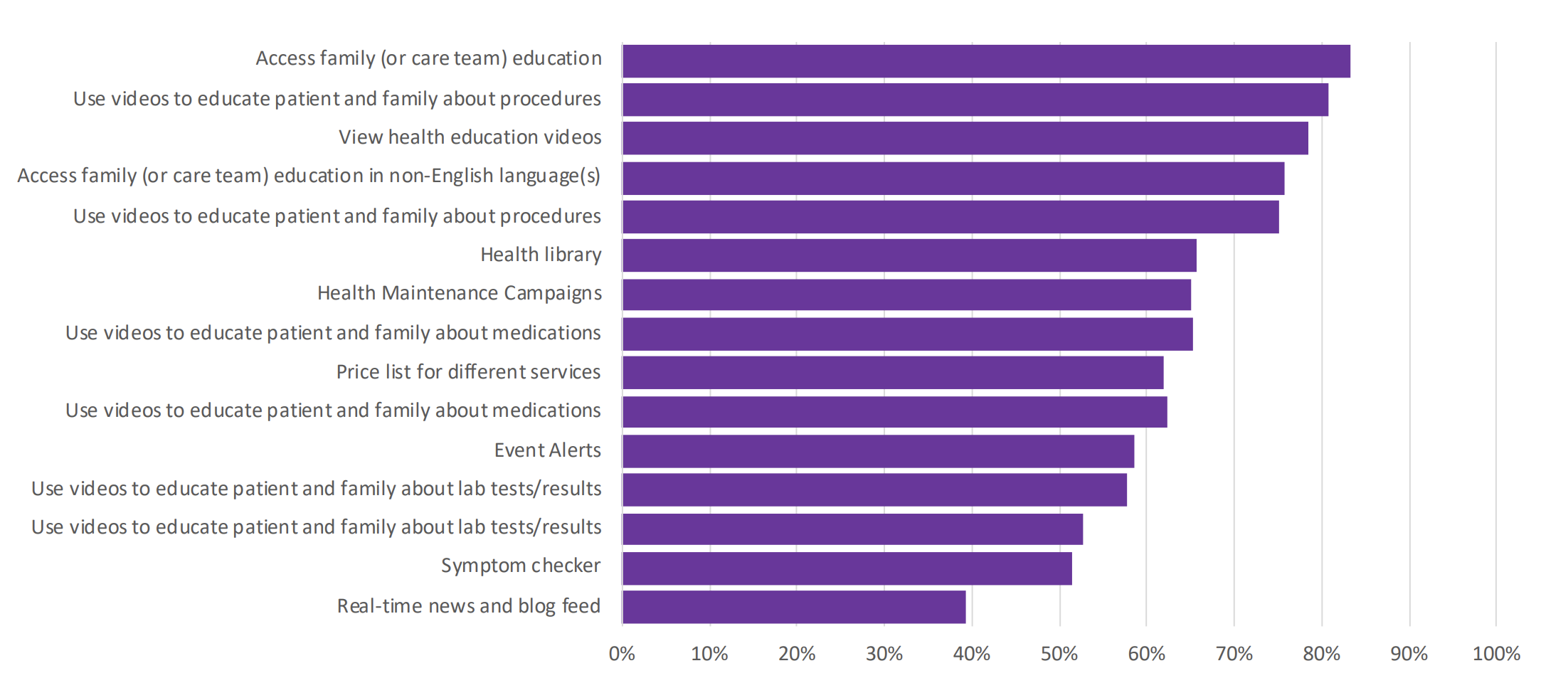 Joshua Titus, CEO of Gozio Health, noted that some of these tools had "no home" pre-pandemic. "They (HCOs) would ask a bunch of questions to determine if patients should stay home, have a test done or visit the care facility," he reported. "We saw our clients very quickly enabling chatbots for symptom checking. I think it will continue to be a digital tool for them."
The progress made on digital health offerings for patients and their families helps healthcare tackle another growing issue, misinformation. As an industry, we've been telling people they should be turning to their healthcare providers for accurate information. And organizations have been looking at how they can do a better job of providing various levels of accurate information, whether it's symptom checking, education about conditions or an easily searchable health library.
Where the first wave of broad information is designed for everyone, this second wave of tools and information is starting to target specific groups of people for specific types of education and resources, noted Michael Saad, CIO of University of Tennessee Medical Center, Knoxville. "The pandemic surely accelerated this move to more targeted digital offerings, but the healthcare industry is absolutely headed to personalized care."
Learn more by downloading the full report now.